غير مصنف
INTER EMIRATES MOTORS AND MG MOTOR DEBUTS NEW 2024 MG HS PHEV IN THE UAE: A PLUG-IN HYBRID FOR A SUSTAINABLE FUTURE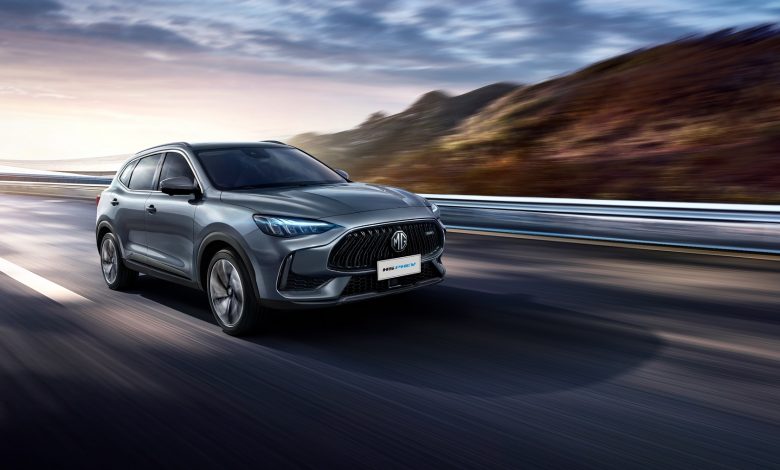 Inter Emirates Motors and MG Motor presents 2024 MG HS PHEV, a low carbon emission alternative for customers in the United Arab Emirates.
MG HS PHEV continues to stay true to the sporty feel, providing engaging motoring experience
2024 MG HS also launched with a 2.0L Turbo conventional internal combustion engine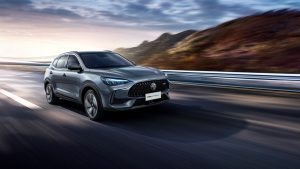 Dubai-UAE: 23 May 2023 – Inter Emirates Motors (IEM), the official distributor of MG Motor in the UAE and a subsidiary of Ali & Sons Holding LLC., is proud to announce the launch of the brand's first plug-in hybrid electric vehicle (PHEV) in the UAE, the 2024 MG HS PHEV. Presenting a low carbon emission alternative for customers in the region, the dynamic SUV is the perfect union of efficiency and performance.
Powered by MG's 1.5-litre high efficiency turbo engine, the MG HS PHEV can cover over 64* km on its 16.6 KW electric motor alone, with the combined output of 258 horsepower helping it to accelerate from 0 to 100km/h in just 6.9 seconds. Developing maximum torque of 480Nm and capable of hitting a top speed of 190 km/h, with paddle shift gear change.
The MG HS PHEV boasts exceptional fuel efficiency, consuming only 1.8 litres per 100 kilometres*. This remarkable fuel consumption ensures that drivers can go farther on less fuel, reducing their overall carbon footprint. With a rating of 4.3 grams per kilometre according to the WLTP standard, this plug-in hybrid vehicle significantly reduces greenhouse gas emissions compared to conventional internal combustion engine cars.
When it comes to charging, the 2024 MG HS PHEV offers convenient options for its electric motor. The charging time for a full charge is approximately 4.5 hours, allowing users to easily replenish the battery overnight or during the day. For those in need of a quick top-up, a fast charge can provide 80% battery capacity in just 35 minutes, making it suitable for on-the-go charging needs.
Building on the success of the sporty SUV, the arrival of the new MG HS PHEV, and MG HS is yet another major step forward in MG Motor's offerings, as the brand continues to expand options for car buyers across the region with its highly advanced and well-equipped range of sedans and SUVs. It joins the recently launched MG ONE, and all-new MG RX5 models in the British-born automotive brand's rapidly expanding Middle East line-up.
*Subject to conditions
Tom Lee, Managing Director of MG Motor Middle East, commented: "The launch of our first plug-in hybrid is the next step in the MG Middle East journey as we bring our expertise with new energy vehicles to our customers while still providing the option of a conventional combustion engine. As one of the manufactures of one of the best-selling NEV in the world, MG is bringing a wealth of experience to the region. With the MG HS PHEV, its sporty feel has not been compromised, where performance and comfort are balanced for our customers to get more from every journey."
The launch of the MG HS PHEV, offers drivers an eco-friendly option that coincides with the UAE's "Year of Sustainability" theme. For 2023, the nation aims to inspire collective action towards sustainable practices and innovative solutions to pressing global challenges such as climate change and energy, while also honoring the UAE's deep-rooted values of sustainability and the legacy of its founder, the late Sheikh Zayed bin Sultan Al Nahyan.
Mohamed Ali Khalfan Al Dhaheri, Managing Director, Motors Division, Ali & Sons Holding LLC, commented on the launch: "We are excited to introduce the MG HS PHEV to the UAE market in the Year of Sustainability, as it is a testament to our commitment towards a greener future. This vehicle not only offers impressive performance but also aligns with the nation's sustainability goals, providing a practical, eco-friendly solution for families and commuters alike. As the UAE prepares to host the 28th United Nations climate change summit, COP28, we are proud to play a part in the nation's drive for sustainability and environmental conservation by offering innovative mobility solutions like the MG HS PHEV."
The MG HS showcases a sporty design with sleek lines flowing from the bonnet to the rear, complemented by 21 individual LED rear lights. The bold appearance is enhanced by the stellar field grille, twin tailpipes, and aluminum bumper. The cabin embodies sportiness with racing-style bucket seats in luxurious LUX trim, offering optimal comfort with high-quality leather sourced from German manufacturer Bader. The three-spoke leather steering wheel with sports stitching and multi-function buttons adds to the stylish interior.
Hisham El Sahn, General Manager of Inter Emirates Motors, said: "We are thrilled to bring the MG HS PHEV to the UAE market. This vehicle offers the perfect combination of electric driving and practicality, catering to customers seeking more effective and sustainable solutions. The MG HS PHEV is an ideal choice for families and commuters alike, providing advanced safety features and impressive performance. We are confident that this innovative plug-in hybrid will be a hit with UAE drivers who prioritize sustainability and efficiency."
Bristling with intelligent features, the MG HS is full of user-friendly touches to ensure its driver is always comfortable, connected, and in complete control. It boasts two high-quality display screens: a 12.3″ Virtual Instrument display behind the steering wheel for essential information, and a 10.1″ high-resolution touch screen with Apple CarPlay and Android Auto compatibility. Standard features include Adaptive Cruise Control, Speed Assist System, Autonomous Emergency Brakes, Lane Departure Warning System, Lane Keep Assist, Blind Spot Detection System, push-button ignition, keyless entry, and a rear-view camera. Additionally, the Electronic Stability Program offers eight safety functions, including ABS, EBD, CBC, TCS, VDC, HAZ, HHC, and BDW, ensuring driving stability in extreme road conditions.
Both MG HS and MG PHEV come in COM or LUX options, prices will be announced shortly according to each market. All-new MG HS and HS PHEV models will benefit from the brand's acclaimed six-year/200,000 km warranty, with the HS PHEV coming with eight-year/200,000 km warranty on its battery for ultimate peace of mind.
For more details on the MG HS PHEV and HS models, please visit: https://www.mg-uae.com/